Creating A Space to Breathe on Social Media | In-person meetup
3. 11. 2021 @ 11:00 AM

-

1:00 PM

EDT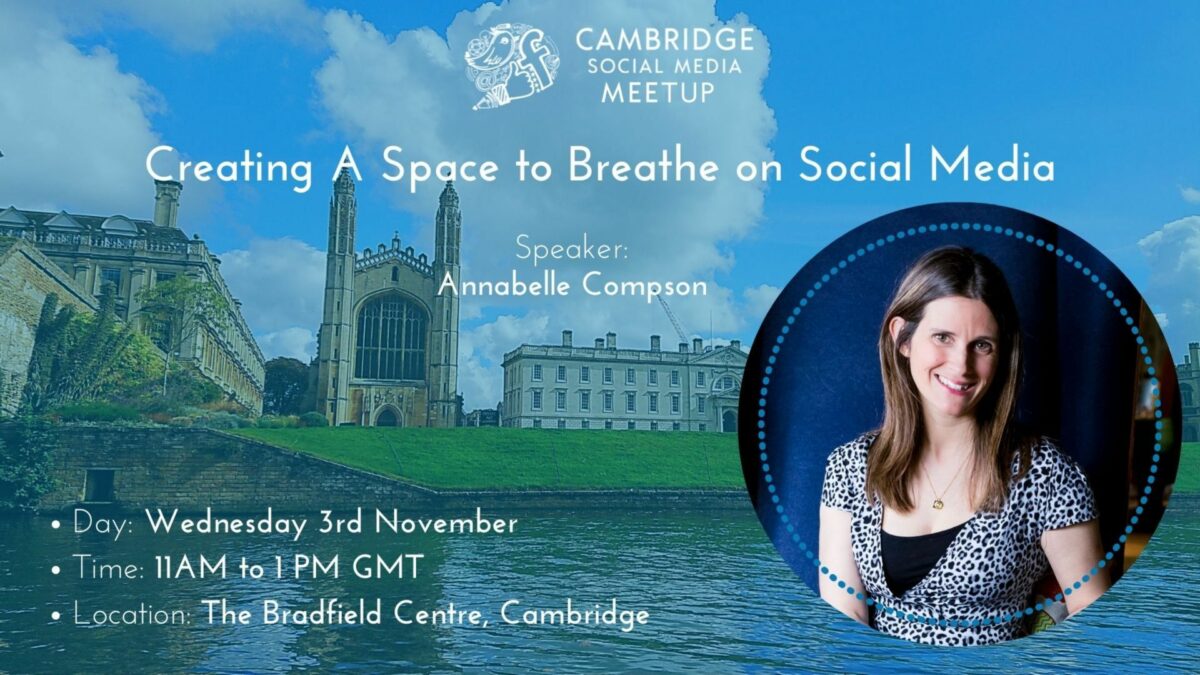 We're looking forward to meeting everyone again in person!
It's been long 20 months since our last in-person event. So much has happened in the world of business and social media as well as in everyone's lives…
We're excited to learn more about you, your business and what you've been up to lately!
We'll meet as we used to do before the pandemic at the Bradfield Centre in Cambridge Science Park. [There's parking on-site and it's reasonably close to Cambridge North Train Station with a bus stop only a short walk away]
If anyone wants to arrive early or stay a bit longer, there's space for a bit of co-working and more networking!
Talk: Creating A Space to Breathe on Social Media
Do you struggle with an overcrowded feed?
We all know we need to be marketing ourselves and our businesses online, but the demand to be ever-present and always seen can be overwhelming. Pressure from platforms and competitors can cause hours spent on social media, resulting in nothing but anxiety and stress.
Let's talk about why having time away from social can be good for you, your well-being AND your marketing.
Our guest speaker Annabelle Compson will share why we should factor breathing space into our social marketing strategies. How doing less, often results in doing so much better and why we should all have the confidence to create and embrace a new relationship with our platforms.
Annabelle is a Social Media Marketer and Facebook Certified Media Buying Professional, helping businesses with paid and organic strategies for growth. With a background in TV production, she is now increasingly supporting business owners with video content creation for ad campaigns and brand awareness.
She is a mother of 2, passionate about the natural environment and wellbeing governor of a local primary school.
Agenda:
11-11:30am – networking
11:30am-12:30pm – introduction and talks
12:30-1pm – Q&As and more networking
Can't wait to see you all again! 💙