Instagram For Artists
28. 5. 2022 @ 5:00 PM

-

7:00 PM

GMT+0200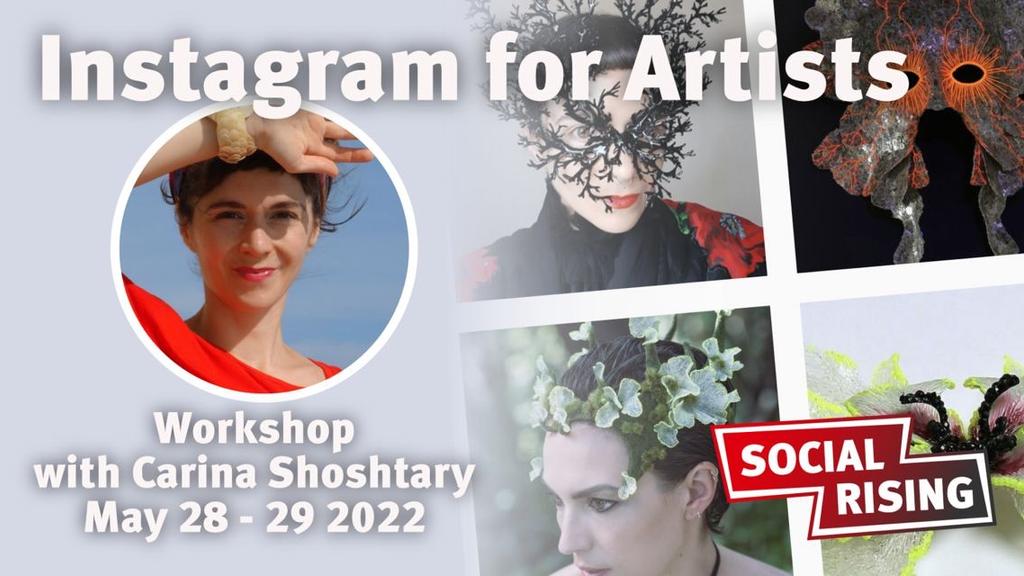 Join our virtual workshop for artists, designers, and creatives of all kinds who want to learn how to optimally use Instagram to showcase, brand, and market their work.
After this workshop, you will know how to create appealing content for Instagram with the different features, present your content ideally, grow your audience and reach new customers, establish interesting contacts and generally increase your reach.
Your trainer will be Carina Shoshtary @carinashoshtary, professional artist and founder of @fashion_for_bank_robbers.
**This workshop is for you if…**
* you want to create visual content able to attract the audience you need and build your personal brand.
* you dream of finding your unique style and expressing yourself visually on Instagram
* you want to know how to grow your audience, build meaningful connections, increase sales and attract new customers via Instagram.
* you want to know how to make a visual content that transmits your values and outlines your individuality and your personal brand
**What will you learn?**
* How to build an authentic Instagram profile that represents your work and personality.
* How to create attractive photo and video content in the different Instagram features that showcases your work optimally.
* The growth strategies (do's and don'ts) on Instagram from a 300k subscriber blogger.
* How to use Instagram ideally to reach your goals as an artist.
* How to build an engaged audience and meaningful connections on Instagram.
**Meet our speaker Carina Shoshtary**
Carina is a professional artist working in the field of wearable art and an Instagram blogger with over 300k subscribers. She showed her work in numerous exhibitions all around the globe and has pieces in several public collections. Through her Instagram activities, Carina has extended her practice and is now collaborating with various musicians and other performers.
Her feature Instagram page @fashion_for_bank_robbers was founded in 2018 and got famous for sharing the most exciting masks and headpieces from artists all around the world. For 4 years already she has been inspiring her subscribers and other artists to express their boldest photo ideas. Carina knows exactly how to use Instagram tools to bring your profile and your personal brand to a new level.
**Infos**
* Dates: **May 28th & May 29th.** 17-19:00 CET/8-10 PST/10-12 EST/…from 5pm to 7pm and May 27th from 5 pm to 7pm.
Please get the exact time in your timezone through the Eventbrite event!
* This workshop will be held in English
* To participate you need to access the workshop via Zoom. The link will be sent to everyone who bought a ticket the day before the event.
* To participate you have to buy a ticket through Eventbrite: **[https://www.eventbrite.com/e/instagram-for-artists-tickets-322594919087](https://www.eventbrite.com/e/instagram-for-artists-tickets-322594919087)**
**The super early bird price of €89 ends on May 7th! After that prices increase.**
Do you have any questions or need help?
**Contact us: [https://info.socialrising.com/contact/](https://info.socialrising.com/contact/)**