The latest arrival to the "gig economy" is peer-to-peer renting. FriendWithA is one such addition. In this review, we highlight how the platform makes it easy to earn from your equipment or rent equipment that's necessary for your project.  While we've reviewed other platforms like Wedio, we are yet to review an all-in-one platform.
What Is FriendWithA?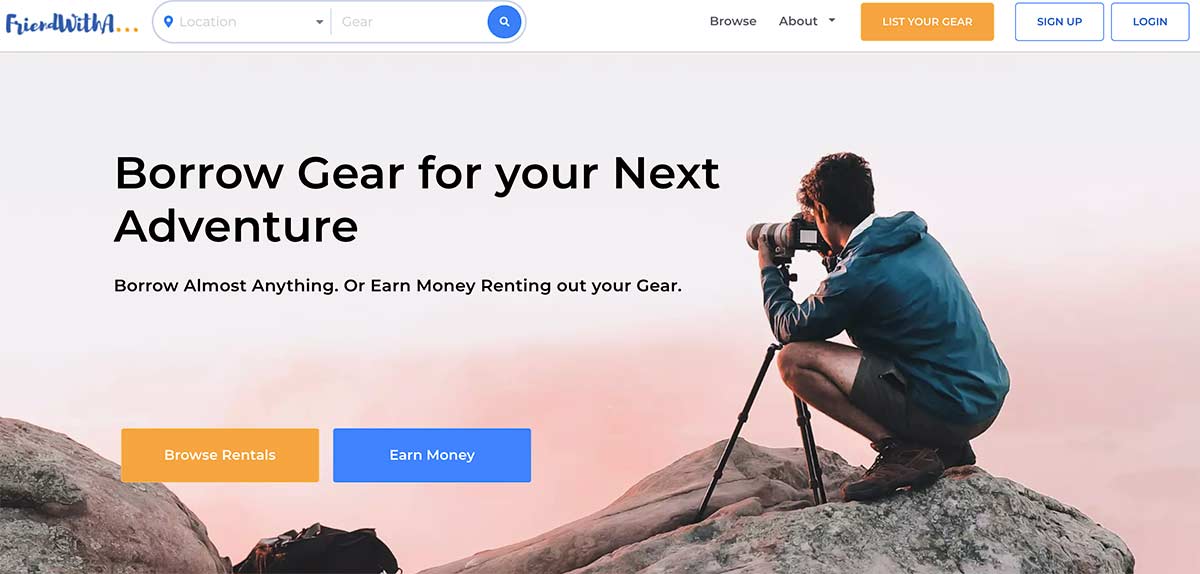 FriendWithA allows owners to lend their stuff to users at a set fee, and users can borrow those items for the amount listed. 
Owners set the fee they'd like for their item and get to choose who they rent to, whereas lenders have the flexibility to rent items where they may want to test out an item or don't have a long-term need for the item.
How It Works
In the FriendWithA ecosystem there are two users: borrowers and lenders. Depending on how you're going to use it, FriendWithA works differently.
For Lenders (Owners)
The process is seamless. Once you've signed up, you can add your items, select your pricing (daily and weekly) and then publish. If your rental is worth more than $1,000, you will need to undergo ID verification.
Insurance: You can also get insurance for items that are valued under $10,000. This insurance covers loss, damage, and theft when using FWA.
Fees and Earnings: While listing your item is free, FWA charges a 10% service fee when someone borrows your item. They'll deduct this fee from the borrower and the remainder they'll deposit into your account. If you select to lend your items with insurance, they'll also deduct the insurance fee from the price. The cost of insurance is determined by the condition of your item and its price.
For Renters:
Besides signing up and filling in your account information, you'll also be required to provide ID verification. Not only does this give lenders peace of mind, but it also maintains the safety of the site. 
You can browse for items based on your location and the item you're searching for, and reach out to owners. Once an owner agrees to rent their item to you, you can arrange the particulars from the drop-off to the pickup with them.
Benefits Of Using FriendWithA
Since peer-to-peer lending is rather new to the gig economy, some uncertainty exists as to whether it's worthwhile. The short answer is yes. However, here are some of the most notable features when using the platform.  
Get Consistent Income To Pursue Your Passion
As a creator, having money to fund your projects and ideas is crucial. FriendWithA allows you to focus on your creative exploits by giving you control of your earnings. Unlike other hustles in the gig economy, instead of exchanging your time for cash, you're exchanging your stuff, which gives you more time to spend on your creative pursuits. 
Earn With An Excellent Referral Program
The more users join FWA, the better the experience is for everyone. To increase the number of active users, FWA has a referral program that allows users to earn $20 for every new user they refer who either lists an item or rents an item. The referral program benefits both parties, as the friend you refer gets $10.
List/Rent Almost Anything
You never know when you may need a generator, hoverboard, or a drone. Or you may have a generator, hoverboard, or drone to rent. TWA enables you to list and rent a variety of items that aren't only specific to a particular niche or occupation.
Bring Your Ideas To Life With A Budget
Ideas don't stop flowing just because you're on a budget. Instead of having to shelf your projects because you don't have the funding to go ahead, FriendWithA enables you to rent from those in your area who have what you're looking for. Often equipment is cheaper than it would be from traditional equipment renters because you're renting from peers. 
Our Recommendations
Whether you need equipment or want to get extra income by renting your equipment, FriendWithA makes that possible. This is why FriendWithA gets a recommendation from For Creators.
Owner Recommendation
While the platform is still growing you may not make $1,000 every month. However, being an early adopter has its perks as you get to earn and help the platform become a consistent source of income. Besides, you're also helping other creators and adventurers. 
Lender Recommendation
The more active lenders join the platform, the greater incentive there is for owners to list their items. Additionally, if you know a friend with something you need, why not request that they list it with FWA as they make the process and the terms of the agreement easier to navigate. 
If you're a creator who either needs some extra cash or you need equipment for a project you're working on – or both – why not check out FWA?
Would you use peer-to-peer rental services? Share your thoughts in the comments.