5 Steps to Build a YouTube Traffic POWERHOUSE
9. 8. 2021 @ 5:00 PM
PDT
Free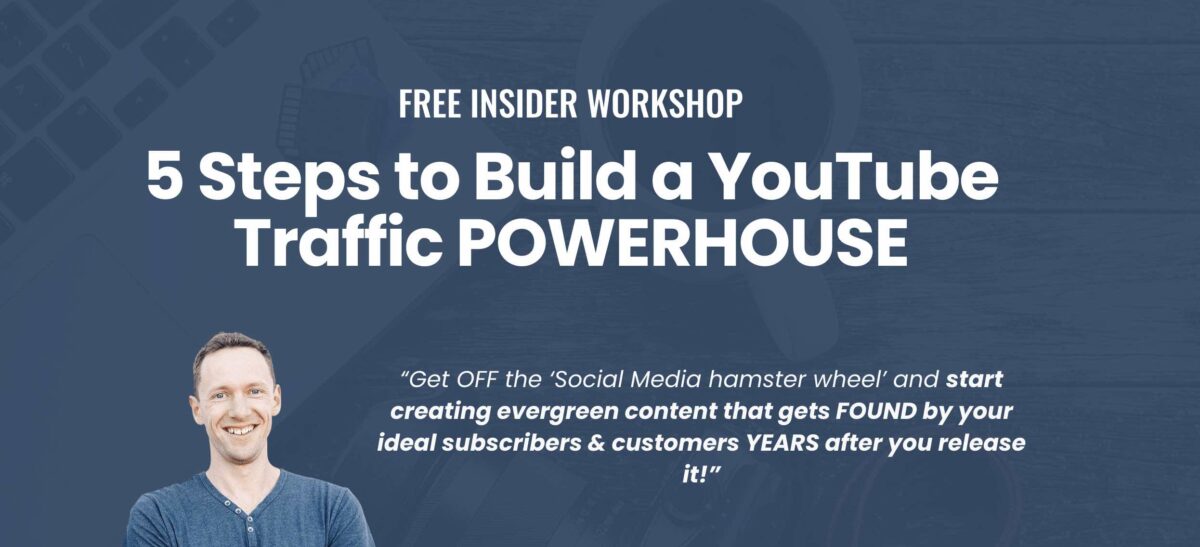 If you've ever wanted a reliable, replicable way to generate organic traffic for the loooong term – then this ones for you.
This week I'll be running our LIVE (and free) Workshop:
"5 Steps to Build a YouTube Traffic POWERHOUSE"
"…Why 'POWERHOUSE'", you say? (Well, I'm glad you asked 
)
Think of YouTube kind of like a generator… If you know how to set up a generator, you give it the RIGHT fuel, and you keep it well maintained – it will continue to produce power for you, 24/7, for YEARS to come.
That's exactly how YouTube works.
Once you know how to use it, the simple steps to give it the right 'fuel' & keep it optimized – you've got your own traffic generator working for you, 24/7.
The coolest part is, unlike a regular power generator, your YouTube traffic generator GROWS as you build a library of optimized content… That's why we use the term 'POWERHOUSE'!
This weeks free workshop is all about how to get that YouTube traffic generator switched on in your business… then scaling it up to become a true POWERHOUSE.
I'll be covering:
Why you need to look at YouTube as a system (and the simple reasons most people fail to get that system to work for them!); plus
The 5-step blueprint we follow with every video upload to give YouTube the right FUEL, so you can build your very own organic traffic powerhouse.
I'll be running the same workshop LIVE 3 times this week, so there's something for every timezone 
Click the link below to save your spot before we kick off on Monday (USA Pacific Time)!