When you think about TikTok, what's the first thing that comes to mind? Dancing? Singing? Cringe comedy videos? Your interests dictate your TikTok experience, whether you're aware of it or not. That's why it shouldn't be surprising that a musical theater enthusiast like Alexa Chalnick has made a name for herself using the platform, after all, it's designed to help you find your niche.
Who Is Alexa Chalnick?
If you're not interested in musical theater, you may not have heard the name Alexa Chalnick before. But, for anyone with a love of the genre or broadway, the name rings a bell. Alexa is a sophomore at Ithaca University in New York. Majoring in music with an outside field in theater, it isn't surprising that her socials are brimming with content surrounding the musical theater. She also happens to have 900,000 followers on TikTok with over 18 million likes. 
Her first viral video about her RA has gained over 80k likes since she first posted it in November of 2019. And could be seen as her claim to fame in the musical theater community.
How Alexa Chalnick Grew Her Audience
Alexa used a combination of her talent, innovative ways of gaining duets, and her desire to help others excel, propel her to success on TikTok.
Honing and Mastering Your Talent
Possibly the most overlooked aspect by anyone who disregards TikTok as a fad is that many of the influencers and content creators who've emerged from TikTok are talented in their own right. Of course, in Alexa's case, she's fine-tuning that talent to ensure current and future success. 
But by honing her skills, she's able to publish engaging content that will have widespread appeal. 
Using Creative Ways To Expand Your Reach
A staple part of Alexa's rise on TikTok is the creative challenges she creates. One example is the "Take Me Down" challenge that featured on Right This Minute. These creative challenges ensure other creators are dueting with her, therefore showcasing her talent to their audience. Because of this, she's able to expand her reach beyond her musical theater audience. 
The primary reason that she's able to expand her reach without seeming insincere is that she creates original challenges that also allow other creatives to showcase their talents. It's not as though she's trying to "steal the show". Instead, she showcases her talents in a manner that allows others to showcase their talents as well. 
Sharing Skills and Insights with Others
Finally, Alexa completes her trifecta by sharing her skills and knowledge with others in her Sing for Alexa Saturdays. These are workshops where she brings on Broadway professionals to critique participants, giving them pointers on their skill. This also allows the participants to step out of their comfort zones to explore their talent and creativity. It also helps them hone their skills. By doing this, she displays that helping her audience gain success is also important to her – which increases her appeal.
Alexa Chalnick is Proof There's Success in Niche Content
More people may know the Bryce Hall's and Charlie D'Amelio's of TikTok, but there's a significant portion of users who don't consume this "mainstream" content. 
Alexa is appealing to a portion of that audience that prefers musical theater and performance art to trending dance challenges.
Essentially, Alexa Chalnick is becoming successful by pursuing facets of her interests that she finds appealing and is, therefore, able to resonate with an audience on that basis.
Although not everyone will take an interest in musical theater, those who do will find Alexa's content captivating and inspiring, leading them to engage with her, share her content, and help her gain viral success.
For anyone within that niche, Alexa's content represents what they want to consume.
Alexa is the perfect example of how pursuing a niche topic can be just as popular and successful as pursuing a more mainstream field. She also shows that by using apps like TikTok, you can quickly narrow down your target audience and expand to hundreds of thousands of users by creating specific content – and never deviating.
Why Does This Approach Work on TikTok
Niche content works across social media apps, however, it's most likely to excel on TikTok. This has to do with one primary reason: TikTok's insanely accurate algorithm. 
TikTok only needs users to engage with a handful of videos after signing up to understand what type of content they enjoy. Once it's found a few genres they like, it will continue to recommend videos and content creators until it has a deep understanding of what they'll find engaging.
For someone like Alexa, with a very specific niche, having such a robust algorithm is helpful. Because it doesn't show content from creators that are trending on the platform, but rather from content every individual user enjoys. In essence, your For You Page is a peek into your interests, hobbies, and personality.
As a theater kid, Alexa appeals to other theater kids. She appeals to viewers with ambitions of appearing on Broadway alongside Lin-Manuel Miranda.
But, because on other platforms that sort of content might be drowned out by other larger, more mainstream creators, she may not have had the viral success. 
On TikTok, however, it only takes one or two viewers to see her videos for TikTok to realize her niche and continue to recommend her content among people who are interested in her niche. 
The takeaway? If you're creating niche content, it's best to begin building your audience on TikTok and then branch out from there. It's a strategy most of the mainstream users have used, and it's something you can implement as well. 
Learn more from Alexa about TikTok and using social media for building a career as an actor, singer, and influencer, in Monday for Creators.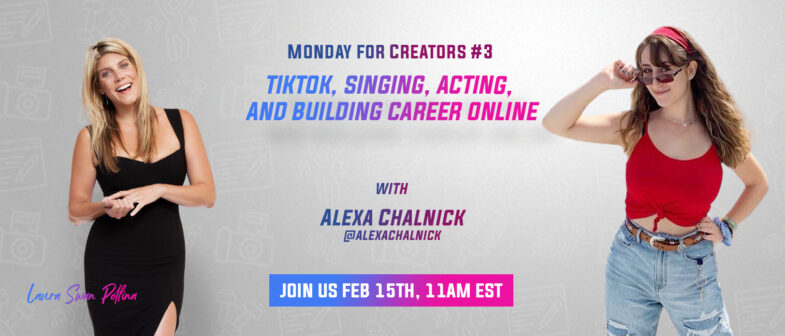 Photo by Alexa Chalnick Website