You've just started growing your following, but to be able to invest more time into your work as a creator you need to start getting paid. You think of monetizing your content but you don't want to alienate your audience. Without a large following is that possible? Yes. You just have to partner with the right brands as a small creator. This list of 12 websites that will help you secure a brand sponsorship will help you do that.
Here's a list of places to go to to find brand partnerships and take the next steps to monetize your content.
All you need are 5,000 followers on any social media to join Famebit. You work with brands directly to promote their products and services. The process is very simple, you find a brand you'd like to work with, pitch your idea to them, and then if they want to work with you you'll need to create content which they'll approve.
Grapevine Logic only requires you to have 25 followers on Instagram and 2,000 subscribers on YouTube to join the platform. They also have a collaboration tool that allows you to find other content creators (in similar niches) that you can collaborate with. This is the perfect platform for new content creators looking to grow.
On AspireIQ they put you in direct contact with brands through their platform. Once you've created the content, you send brands a request to pay. The good news is, there aren't any fees to join or use the platform.
There aren't that many platforms focusing on bloggers, but that's what makes TheShelf different. As a platform dedicated to bloggers you'll find a number of brands willing to sponsor your content.
If you want to work with some of the most recognized brands on social media, then TapInfluence is probably your best option. A simple registration process gives you access to some of the most well-known brands online.
If you focus on lifestyle, fashion, beauty, or grooming, then Style Coalition is a platform you should consider using. If your application is approved on StyleCoalition, you can partner with brands like Sephora, Coach, Dior, and Garnier, to name a few.
BrandBacker works differently than other platforms on this list. Instead of signing up to gain access to their marketplace, as a content creator, you'll receive notifications from BrandBacker every time there's a paid sponsorship opportunity or to receive discounted or free products.
Being on a mailing list like BrandBacker works especially well if you're trying to grow your audience but you're on a tight budget, as the freebies and discounts can certainly come in handy.
BrandBacker focuses on creators in the beauty, food, fashion, and lifestyle niches, if that's you, then definitely try them out.
Plenty of YouTube's biggest creators are signed with FullScreen from Elle Mills to Cody Ko. This management company will help you grow your audience with optimization techniques, syndication, and of course, brand partnerships. They've paid hundreds of millions in brand deals to creators in their network. Besides, by using FullScreen you're getting the same guidance and tactics that have helped other creators grow their audience rapidly across several platforms and different media.
Instead of you applying for brand deals, Markerly sends them to you. After getting approved for the platform, Markerly finds brands that are a perfect match for you, taking the guesswork and hours from trying to secure yourself brand deals.
That's not the only thing that makes Markerly different from other platforms. Their eligibility criteria aren't based on hitting a specific follow count, but on the frequency, quality, and engagement of your posts.
Octoly has an extensive network of brands and products you can promote on their platform, and getting started on the platform is relatively easy. To gain access to their platform, you need to meet a minimum criterion that includes having 1,000 subscribers on YouTube and 1,000 views per video after 30 days. For Instagram, you need 1,000 followers and a 2% engagement rate. Also, you'll need to be posting regularly regardless of whether you post to YouTube or Instagram.
The process of joining Popular Pays is relatively simple. All you need to do is sign up for a free account and meet the relevant criteria before you gain access to their marketplace where you can bid on gigs. If a brand chooses to work with you, you create the content and wait for them to approve it before getting paid. It's as simple as that.
12. Affiliate Programs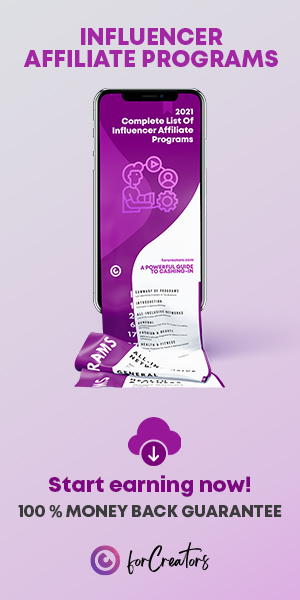 Lastly, as a smaller creator, you can still monetize your work by using affiliate programs (check our list of Complete List Of Highest Paying Influencer Affiliate Programs).
Affiliate programs are relatively easy to apply to and get accepted by, and all you need to do is include a link in your description of the products you're promoting. Of course, you won't get the benefit of having a custom link that many larger creators have. But, you will make money every time someone clicks and purchases a product through your link. This is the easiest way to monetize your content and "collaborate" with brands without having to hit big numbers. Great affiliate networks include:
— Ratuken
— PeerFly
But, if you ever find a product or service you love and would like to promote to your audience, scroll to the bottom of the page and see if there's any link to become an affiliate.
---
As a small creator, monetization doesn't need to be difficult, or a dirty word. You can easily combine your love for content creation with your desire to focus on creating content full time. All it takes is finding the right kind of brands to partner with. Brands that allow you the freedom to create content your audience will enjoy while paying you for your valuable collaboration.