How to use Clubhouse to build your brand? We asked Choreographer, Creator, and Clubhouse Aficionado Yemi A.D. (@yemiad on ClubHouse), about how he's using Clubhouse to connect with other creators and promote his latest project Moonshot platform among other personal creations. Watch the webinar replay on YouTube Monday for Creators or read the report from the webinar below.
​

​What is Clubhouse?

Clubhouse is a new social media platform that completely ditches the idea of text based posts and messaging, and provides users the unique opportunity to communicate only via audio clips. It is an invite only platform, and as you can tell, is quite different from all the other current big players in the social media industry.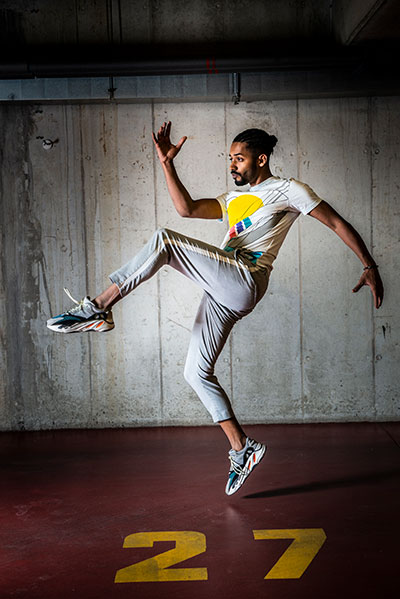 Meet Yemi A.D.
Yemi A.D. (@yemialchalmist), on the other hand, is one of the coolest personalities, and creators that you will ever come across! He is a choreographer who has worked with the likes of Kanye West as well as Adidas, a content creator, and is also the founder of a production company called JAD Productions, which has worked alongside brands like Apple, and Mercedes.
As a creator, Yemi gets to explore many different social media platforms, and recently, he has got himself involved with Clubhouse. With already over 7,000 followers on the platform, Yemi is making quite the impression over there. And there is no doubt that the network will soon attract more and more creators who would love to benefit from it, which is why this past Monday (February 8th, 2021) we sat down with Yemi A.D. on our second session of Monday for Creators, where we talked about Clubhouse, how to get started with it, and how you, as a creator, can monetize your presence on the platform.
Getting started with Clubhouse 
Clubhouse is an extremely inclusive social media network. You can join the platform via invites from existing members only. On top of that each member is granted only 2 invites that they can share with others. Hence, despite starting off in 2020, the platform saw a considerably slow growth rate.
Recently, however, Clubhouse has been gaining a lot of attention, especially after Elon Musk decided to host an audio-chat with the CEO of Robinhood, Vlad Tenev on it. The platform is also getting attention from the creator community, as more and more creators and influencers are trying to make the best use of it, and promote their content, as well as monetize it.
'Rooms' in Clubhouse
When you first join the app, you get to select topics that interest you – like football, music, social networking, and so on. Based on your choices, you will get to check out 'rooms' and other users who have similar interests. 
Once in a room, you will have the opportunity to talk to others only when you are on the 'stage'. The rest of the audience are muted while the speaker talks. If you want to say something, you can simply 'raise your hand', and wait your turn. 
Creating your own Room
You can also create your own room which can either be public, or for your friends, or a private room which is invite only. The rooms will have their own theme or topic based on which others will know what the discussion is about, and whether or not they want to join the conversation. Yemi suggests that you get everything done ahead of time, and set an amazing headline for your room or session so that you can actually appeal to other users.
Given how you are suggested rooms or users that share similar interests with you, you can rest assured that you will always feel comfortable being in a room with complete strangers. The Clubhouse algorithm works in a very diverse way, similar to that of TikTok. Your suggestions will always be tailored to your tastes.
The One-Strike Policy
Of course, there will always be users who tend to misuse the platform or try to spread vulgarity within the community. For them, Clubhouse has a one-strike policy, where one mistake will get you a lifetime ban. Whenever a user or an incident is reported, the platform takes measures to scan the audio of that particular event and check for any sign of profanity. After assessing the situation, it makes the final decision as to whether that particular user should be banned or not.
New 'Club' feature coming soon
Clubhouse is also releasing a new feature later this year called a 'club'. People who have at least 3 weekly rooms will be prioritized when they ask for a club. If you want to start a club, you need to go to the FAQ section, and select the club topic over there. Afterward, you will be asked to take care of some formalities, and Clubhouse will get back to you within a week.
Monetization on Clubhouse
According to Yemi, Clubhouse is perhaps the biggest revolution since Facebook was founded. Its value is growing day by day, and more and more people are looking forward to joining the platform. And while Clubhouse is yet to embrace existing monetization policies, like on Facebook or Instagram, you can still earn from the platform by giving shout-outs to your sponsors, something you would do if you were on a podcast. You can talk about the products you use, share discount or coupon codes with your audience (affiliate marketing) or drop in subtle references during your talk. 
Another way to earn, as Yemi suggested, is by running exclusive rooms, where you might have a special discussion or guest over, and sell tickets to that session to your followers.
Yemi also suggests not to use a brand or your sponsor's name on the room title. Because that can drive people away before even think about joining the room. 
The future of Clubhouse
When asked about the future of Clubhouse, Yemi said that it will eventually go on to become something really big. Within a year or so, Yemi expects the platform to achieve mainstream status. As the number of users starts growing, and the platform begins to spread to other parts of the world, we will definitely see more and more features being introduced, and more and more diverse communities joining in on the action.
3 important tips from Yemi A.D. to grow and establish yourself on Clubhouse
If you are new on the app, and want to establish and grow yourself on the platform, Yemi has 3 very important tips for you. Firstly, you will learn as you make mistakes and fail. So do not worry about experimenting with ideas, and failing to succeed with them. Secondly, you should have a clear idea as to what you are going to talk about. Your audience will only be interested as long as you can make the sessions worthwhile. And finally, you need to be smart while naming your rooms, and creating your brand image. Clubhouse will not guarantee you success right away. But if you try, you can definitely achieve it.
We hope you enjoyed learning about Clubhouse from Yemi A.D. this week on Monday for Creators.  ForCreator's newest webinar series will give you the opportunity to hear from some of the best minds in the industry. Stay tuned for next week's session where we will be bringing in another guest, and talking about a brand new topic. And in the meantime, feel free to share your thoughts, suggestions, and what you would like to see on Monday for Creators.
Yemi A.D.
Clubhouse:
Projects: