This week's creator of the week is Elona Karafin, a twenty-something travel and lifestyle content creator, and perhaps the pioneer of short-stay exploring for our generation. 
Her Instagram grid is a timeline of her enviable passport. Her blog, a diary of her escapades to the most exotic locations. 
Chatting to her for the interview, her passion was evident and her advice illuminating. 
Listen to the full episode with Elona Karafin on the for creators podcast

Some 60 Destinations, But One Second Home
Elona is a travel connoisseur. She's been to some sixty exotic destinations. Scrolling through her Instagram or reading her blog, you're hit with one exploration after another, of breathtaking, mesmerizing places. So, when she calls a destination her second home, you're interested. Her specific pick for a "second home" is the UAE. She was first introduced to the country and culture in a travel channel segment, but experiencing it for herself she's hooked and has taken about a dozen trips back, ever since her first short-stay.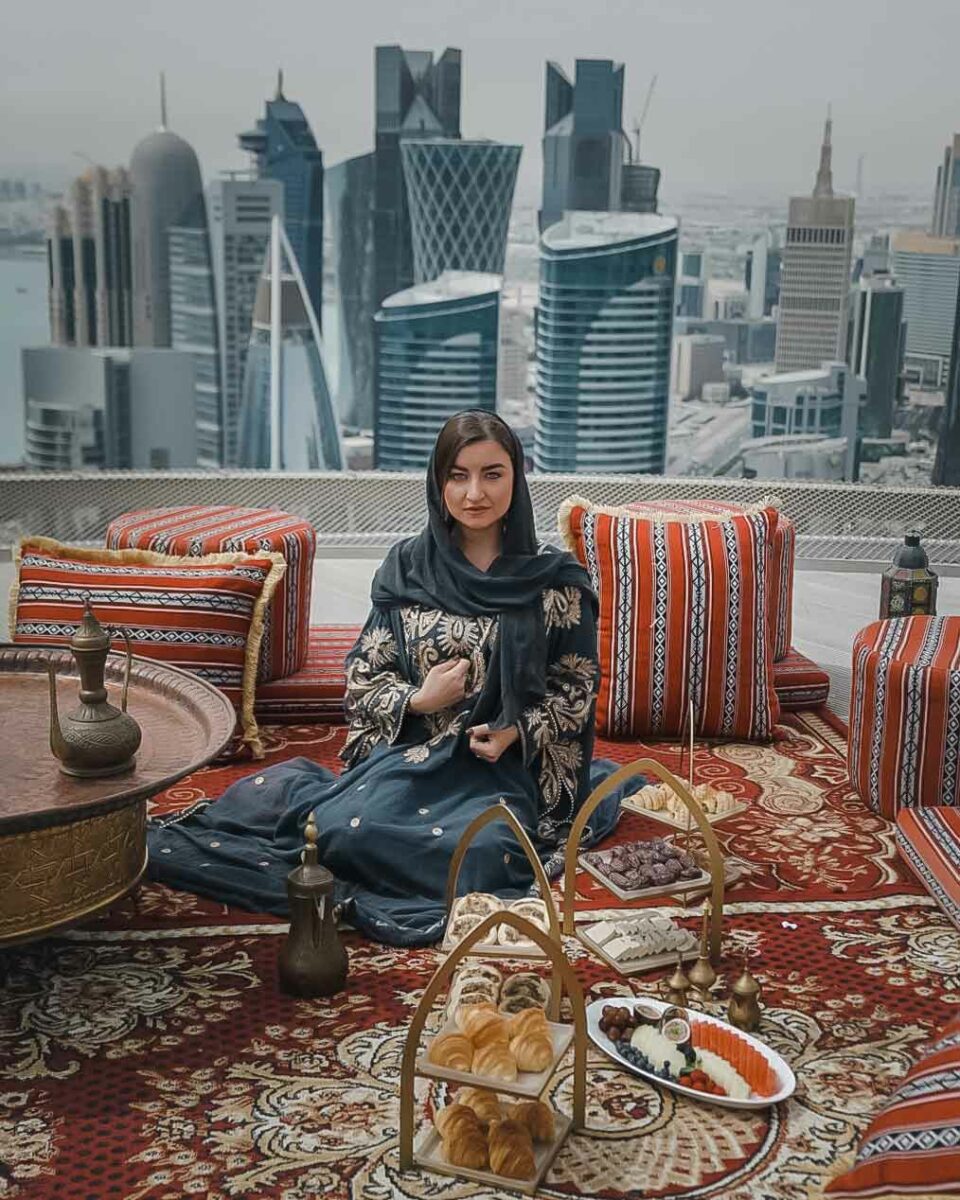 A Unique Travel Philosophy
Her philosophy on travel is unique. She isn't concerned about laying around and relaxing, but rather exploring, getting a feel for the country and its people. This mindset on travel enables her to make the most of her short-stays and is enough to entice people to join her on her exotic location travels.
Her particular foray into short-stays started as a solution to a problem common among young professionals. You've got the money to travel, but not the time. What do you do then? Perhaps you wait for your vacation days to accrue and then finally take a much-deserved break. But for Elona whose love for exploring was nurtured by her family since the age of five, this wasn't an option.
Three or four days was enough to explore and embark on amazing adventures in some of the world's most exotic locations. Her idea: take one or two days off after a weekend, and voila, you've got a three-night, four-day trip to your destination.
Life-Changing Travel Advice
Elona's traveling advice is straightforward. You don't need a large budget or a bucket load of vacation days to travel to exotic locations. Her advice to travel on a budget and for short periods is to plan. Research the location and determine the average price for hotels, restaurants, and experiences before you arrive at your destination. Now you know how much everything should cost, so you can spend your money accordingly.
Shrewd Advice For Aspiring Influencers
Elona's been a full-time influencer for three years. Her advice to influencers expounds on what it takes to create a lasting career in the industry.
Be Better Today Than You Were Yesterday
Elona's advice to content creators is to never stop developing and honing your skill.
As an influencer, your content is available for anyone to see and critique. Therefore, your content should be an accurate depiction of your work ethic. 
When asked what are some of the skills she thinks creators should have, Elona was clear, there isn't one skill you should have. Instead, it's the act of developing a host of skills that increase the quality of your work and enable you to confidently and professionally interact with brands and others in the industry.
She imparted invaluable advice: Even if you spend twenty minutes of your day watching a YouTube tutorial to develop a particular skill, you'll have gained a skill you didn't have the previous day. 
In this way, you're constantly improving, which is necessary to remain relevant in any competitive industry.
Elona is also proof that you don't need a great deal of time to pursue your passions.
Acknowledge Your Worth
Wanting to earn an income from your work isn't being arrogant or ungrateful, it's good business practice. Elona advises that you shouldn't undersell yourself. But before you start looking for brand partnerships, you understand your worth and price your content accordingly. Knowing your worth, of course, begins with what she said before: investing in yourself. Yet, she also says that to know your worth you should avoid being desperate. Saving up and expanding your audience, will help you avoid being at the mercy of brands, who may exploit desperation.
"Don't Interact With Ignorance"
When asked what she says to people who think that being a content creator is about traveling to exotic destinations or dream locations, Elona had some fitting words. " I don't interact with ignorance… I don't owe it to anyone to explain myself. I know the work that I put in."
That's right. Being a content creator with a podcast, a blog, and a highly engaged audience, Elona cannot be reduced to an ignorant and inaccurate depiction of her work… Because she needs to accommodate brands, hotels, and clients from across the globe, her days can start at 6 am and end at 3 am. 
In the process, she's built a cohesive personal brand that adds value to her audience. 
Although she's one person, the work she does is equivalent to advertising agencies – the type brands would usually hire to generate interest in campaigns. These ad agencies have teams and resources. However, content creators, like Elona, conceptualize, plan, execute, and curate their content and ideas using their judgment to determine what adds value to their audience.
Transitioning To Life As A Full-Time Creator
When is the right time to transition to full-time content creating? After three years as a full-time creator, Elona's answer sheds light on the preparation creators need to take before taking the plunge. 
Her two markers to determining whether or not you should leave your 9 to 5 and pursue content creation full-time, are:
Savings: You need at least six months of savings to pursue this career full time. This gives you time to grow your audience and relationships with brands comfortably. 
Audience Loyalty: You need to be sure your audience is loyal to your content. And can see that it's possible to scale your audience and influence because your audience will act on your recommendations.
Elona attributes her ability to confidently pursue full-time content creation to getting these checks and balances in place. This is the formula she used when choosing to resign to become a full-time content creator. She's been doing this for three years. She knows what it takes to build a lasting brand in a fickle industry. 
Elona has been fearlessly exploring her passions and proving that it's possible to pursue your interests. With a plan, a fierce and burning passion, and commitment to your craft Elona is proof that nine to five isn't the only path to a fulfilling life. 
—
Elona shares more advice during our 30-minute interview. Regardless of where you are in your journey as a content creator, listening to Elona's creator of the week episode will be illuminating.
Listen to the full episode with Elona Karafin on the for creators podcast